Latest News
08/03/2018
ImagineS ground measurements database used for MODIS and VIIRS LAI/FPAR analysis
The ground measurements collected in ImagineS are used as reference for the uncertainty analysis of global LAI/FPAR products from MODIS and VIIRS sensors.
read more
06/04/2017
Collection 300m LAI, FAPAR, FCOVER available
The Copernicus Global Land Service starts the dissemination of global LAI, FAPAR, FCover derived from PROBA-V 300m resolution data.
read more
08/02/2017
Collelongo ground measurement dataset updated.
The ground measurement dataset collected over Collelongo in 2015 has been updated, as well as the ImagineS 3kmx3km mean value database.
read more
Home
ImagineS has performed research and development to support the operations of the Copernicus Global Land Service (CGLS). As a result, the retrieval algorithm of the Collection 300m of LAI, FAPAR and FCover derived from PROBA-V data has been defined and the processing line developed and tested before to be integrated into the CGLS production facilities. The Collection 300m LAI, FAPAR and FCover are available over the globe, every 10 days from January 2014 onwards. They are provided with associated documentation: ATBD, Product User Manual and Quality Assessment report. They have been validated according to the CEOS LPV guidelines. In particular, they have been compared with the ground-based measurements collected during the ImagineS field campaigns.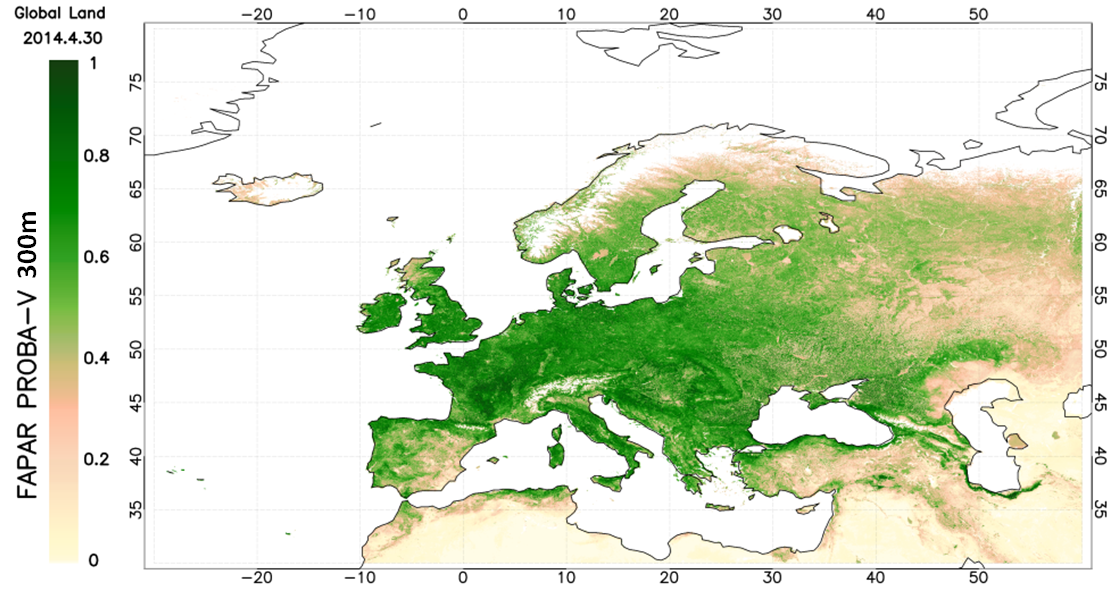 Collection 300m FAPAR over Europe, 30th April 2014.